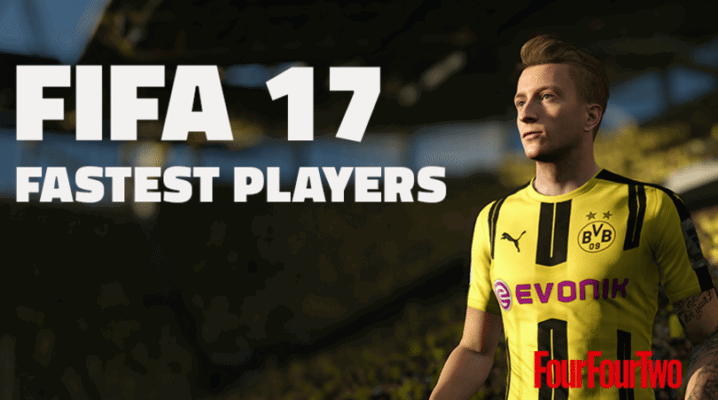 Top 20 Fastest Players in FIFA 17
Top 20 Fastest Players in FIFA 17? Who are the Fastest players in FIFA 17? Wel, have you ever wanted to find out which players are the fastest in the newly released FIFA 17? if you have then worry not because we have prepared a list of the Top 20 Fastest Players in FIFA 17
The wait is over as EA Sports has released the latest edition of FIFA. The game is almost as exciting as the start of a new season for football fans.
With new features, new game modes and updated squads following the end of the summer transfer window, it is no surprise that millions flock to the shops every year to purchase this exciting sports game.
In fact, the game is taken seriously by footballers who feature in it as they await to see their own player ratings by EA Sports electronics.
The question people are asking themselves is what good team can i set up in FIFA career mode?  Because you might need the fastest talent you can get in the game. Are you also having the same question? well, if you're then worry not because we have prepared a list of the Top 20 Fastest Players in FIFA 17.
Pace is everything when it comes to playing FIFA you might have a bad player in your squad but because of his pace he might make other players seem like their in slow motion.
The Fastest Player in FIFA 17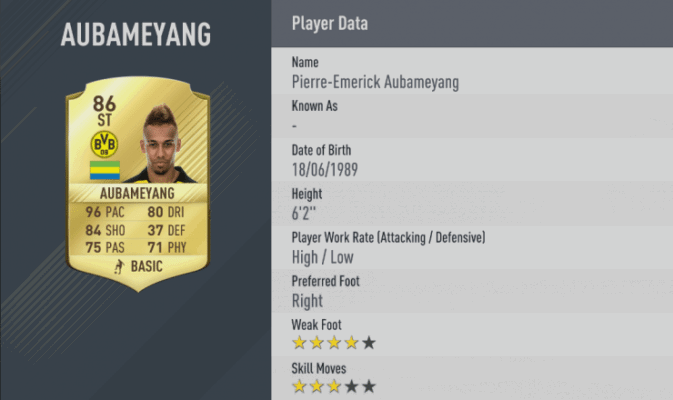 Who is the fastest player in FIFA 17? Well, Borussia Dortmund's Pierre-Emerick Aubameyang is the fastest soccer player in FIFA 17 with a pace rating of 96.
Mathis Bolly also has a pace racing of 96. But we preffered putting a better player at the top of the list.
Top Twenty Fastest Soccer Players in FIFA 17
Here is a full list of the twenty fastest players in FIFA 17.
| | | | |
| --- | --- | --- | --- |
| Rank | Player | Club | Rating |
| 1. | Pierre-Emerick Aubameyang | Borussia Dortmund | 96 Pace |
| 2. | Mathis Bolly | SpVgg Greuther Furth | 96 Pace |
| 3. | Jonathan Biabiany | Inter Milan | 95 pace |
| 4. | Hector Bellerin | Arsenal | 95 pace |
| 5. | Jurgen Damm | Tigres UANL | 95 Pace |
| 6. | Ernest Asante | FC Nordsjaelland | 95 pace |
| 7. | Gareth Bale |  Real Madrid | 94 pace |
| 8. | Hector Villalba | Club Tijuana | 94 pace |
| 9. | Jefferson Cuero | Monarcas Morelia | 94 pace |
| 10. | Ryo Miyaichi | FC St Pauli | 94 pace |
| 11. | Nnamdi Oduamadi | HJK Helsinki | 94 pace |
| 12. | Kekuta Manneh | Vancouver Whitecaps | 94 Pace |
| 13. | Jonas Aguirre | Rosario Central | 94 pace |
| 14. | Raheem Sterling | Manchester City | 93 pace |
| 15. | Lucas | Paris Saint Germain | 93 pace |
| 16. | Bruma | Galatasaray | 92 pace |
| 17. | Kingsley Coman | Bayern Munich |  93 pace |
| 18. | Ahmed Musa | Leicester City | 93 pace |
| 19. | Fabian Castillo | Trabzonspor | 93 pace |
| 20. | ?? Guess? | ?? | ?? |
More lists with the fastest fotballers
Here a few more lists with the fastest fotballers in world:
More FIFA 17 Lists
Here are a few of our best FIFA 17 lists:
Best Free Kick Takers in FIFA 17