Fiorentina Players Salaries 2023
Fiorentina Players Salaries 2023? Who are the highest-paid ACF Fiorentina players? Have you ever wondered about which ACF Fiorentina player are the highest-earning players in the team? Well if you have then worry not because we have prepared a list of the ACF Fiorentina Players Salaries 2023, this list contains every single ACF Fiorentina player's wages. Watch & Bet Football Here =>
ACF Fiorentina Players Salaries 2023
ACF Fiorentina commonly referred to as simply Fiorentina is a professional Italian football club from Florence, Tuscany.
Founded by a merger in 1926 (refounded in 2002), Fiorentina have played at the top level of Italian football for the majority of their existence; only four clubs have played in more Serie A seasons.
Fiorentina have won two Italian Championships, in 1955–56 and again in 1968–69, as well as winning six Coppa Italia trophies and one Italian Super Cup. Watch & Bet Football Here =>
ACF Fiorentina Information
The club have played at the Stadio Artemio Franchi since 1931. It currently has a capacity of 47,282.
Fiorentina are known by the nickname Viola. This is a reference to their purple kit colours.
New Player Signings Fiorentina 2023 – Summer 2023
Players
Club
Transfer sum
Dodô
Shakhtar D.
€14.50m
Antonin Barak
Hellas Verona
€8.50m
Rolando Mandragora
Juventus
€8.20m
Abdelhamid Sabiri
Sampdoria
€2.50m
Josip Brekalo
VfL Wolfsburg
€1.50m
Antonin Barak
Hellas Verona
Loan fee:
€1.46m
Pierluigi Gollini
Atalanta BC
Loan fee:
€490k
Salvatore Sirigu
SSC Napoli
free transfer
Luka Jović
Real Madrid
free transfer
ACF Fiorentina Players Salaries 2023 (Weekly Wage)
The Viola, like most other football clubs, do not release their wage bill. However many journalists often break wage bill information from Serie A teams which are often accurate.
But for lesser-known teams, very little is known about players' wage bills. But here we take a look at the likely ACF Fiorentina Players Salaries.
Fiorentina are said to be paying €52 million on salaries this season. By spending this amount, Udinese have the eighth highest wage bill in Serie A.
Juventus is the club in Italy that pays the most: €300 million, followed by Inter Milan (€140 million), AS Roma (€125 million) and AC Milan (€125 million). €1360 million will be paid in wages this season in Italy, which is the highest number in the last decade.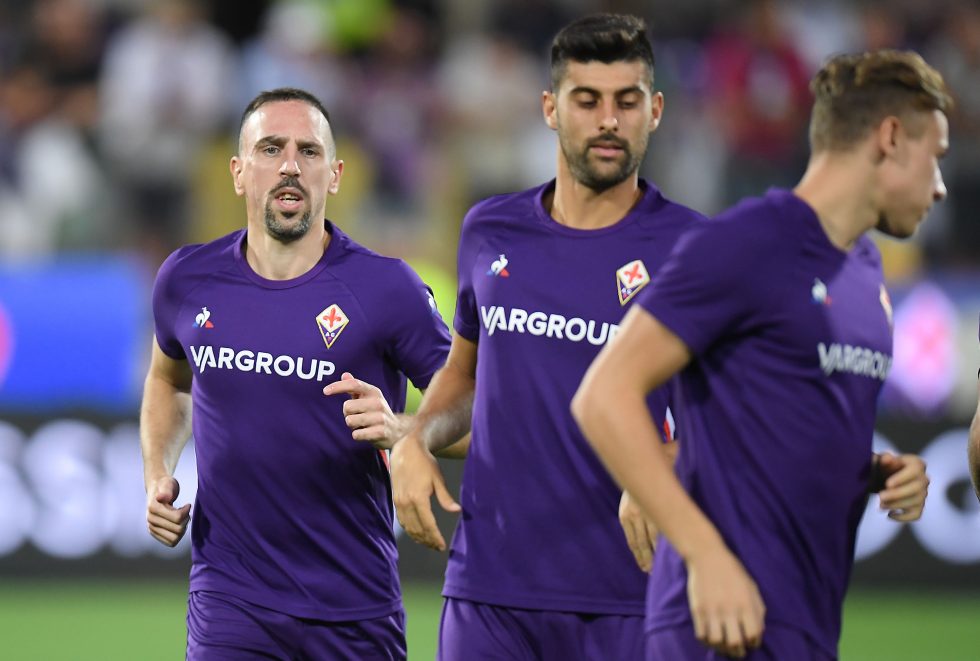 The Viola do not reveal their wages information but judging by transfer market value as highlighted in the table below- it is likely that Franck Ribery is earning the most at Fiorentina. So here are the ACF Fiorentina players salaries and contract details for 2023.Watch & Bet Football Here =>
ACF Fiorentina Players Salaries 2023
| Player Name | Age | Weekly Wage | Yearly Salary |
| --- | --- | --- | --- |
| Nikola Milenković | 24 | £106,923 | £5,560,000 |
| Nicolás González | 24 | £61,731 | £3,210,000 |
| Luka Jovic | 24 | £61,731 | £3,210,000 |
| Rolando Mandragora | 25 | £56,923 | £2,960,000 |
| Antonin Barak | 27 | £53,462 | £2,780,000 |
| Giacomo Bonaventura | 33 | £53,462 | £2,780,000 |
| Gaetano Castrovilli | 25 | £49,808 | £2,590,000 |
| Alfred Duncan | 29 | £46,636 | £2,410,000 |
| Cristiano Biraghi | 30 | £42,692 | £2,220,000 |
| Christian Kouame | 24 | £42,692 | £2,220,000 |
| Arthur Cabral | 24 | £41,923 | £2,180,000 |
| Jonathan Ikone | 24 | £41,923 | £2,180,000 |
| Marco Benassi | 27 | £39,231 | £2,040,000 |
| Sofyan Amrabat | 25 | £36,923 | £1,920,000 |
| Dodo | 23 | £36,923 | £1,920,000 |
| Pierluigi Gollini | 27 | £28,462 | £1,480,000 |
| Youssef Maleh | 24 | £25,000 | £1,300,000 |
| Lucas Martinez | 26 | £24,615 | £1,280,000 |
| Riccardo Saponara | 30 | £24,615 | £1,280,000 |
ACF Fiorentina titles
National titles
Serie A:
Winners (2): 1955–56; 1968–69
Runners-up (5): 1956–57; 1957–58; 1958–59; 1959–60; 1981–82
Serie B
Winners (3):
Serie C2 (as Florentia Viola)
Coppa Italia:
Winners (6): 1939–40; 1960–61; 1965–66; 1974–75; 1995–96; 2000–01
Supercoppa Italiana:
Winners (1): 1996
Runners-up (1): 2001
European titles
European Cup:
UEFA Cup:
UEFA Cup Winners' Cup:
Winners (1): 1960–61
Runners-up (1): 1961–62
Minor titles
Coppa Grasshoppers
Mitropa Cup
Winners (1): 1966
Runners-up (2): 1965, 1972
Anglo-Italian League Cup
Other European Teams Salaries and Wage Bills and Lists
Premier League teams:

La Liga teams:

Bundesliga teams:

Serie A teams:

Ligue 1 teams: