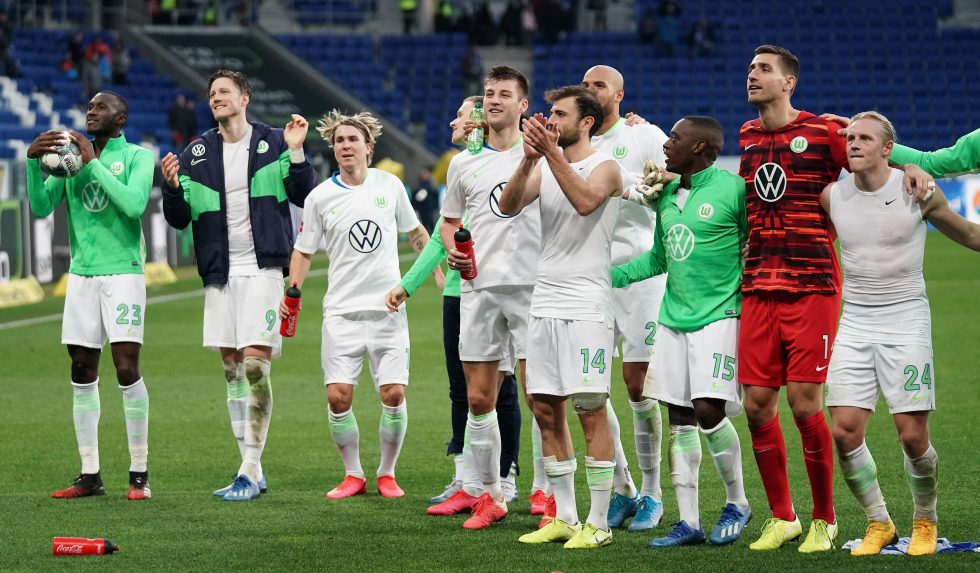 Wolfsburg Players Salaries 2022 (Weekly Wages)
Wolfsburg Players Salaries 2022? Salaries of players of Wolfsburg? Which Wolfsburg players are the highest paid? Have you ever thought of finding out the list of Wolfsburg player salaries? Well, if you have then worry not because we have prepared a list of the Wolfsburg Players Salaries 2022 (Weekly Wages) and the full details about Wolfsburg players' contracts. Watch & Bet Football Live =>
Wolfsburg Football Club was founded as a professional German Football Club in 1938. It grew out of a multi-sports club for Volkswagen in the city of Wolfsburg. Their nicknames are Die Wölfe (The Wolves) and the club predominantly play in green and white – these are the famous colours of Wolfsburg.
The rivals of Wolfsburg are VfB Stuttgart, Werder Bremen and Borussia Dortmund. They competed hard against their rivals last season, finishing in the 6th spot of the Bundesliga and claiming a spot in this year's Europa League. The last couple of years were tough on the Wolves fans, seeing their club finish in the bottom half but since 2020, they have bounced back under Oliver Glasner.
Wolfsburg Information 2022
Their home ground is known as the Volkswagen Arena and have been playing at this stadium since 2002. It is still relatively new, under 20 years old. There is a 30,000 seat capacity and has been named after sponsorship from the automobile company, Volkswagen.
Wolfsburg are one of the top German sides and have a huge wage bill of over £50 million per year. The average VFL Wolfsburg average player salary per-year is €2.5 million per year. The Wolves have added a string of young players this summer – Xaver Schlager, Kevin Mbabu, Joao Victor and Paolo Otavia. They have also cleared out a bit of deadweight in the form of ageing players and unproven prospects – Diamata and Paul Verhaegh.
Wolfsburg Player Arrivals 2021/22
Player & Position
Age
Signed From
Transfer Fee/Status

Bartosz Bialek

18

Zaglebie Lubin

€5.00m

Centre-Forward

PKO Ekstraklasa

Maxence Lacroix

20

FC Sochaux

€5.00m

Centre-Back

Ligue 2
Wolfsburg Player Departures 2021/22
Player & Position
Age
Signed From
Transfer Fee/Status

Felix Uduokhai

22

FC Augsburg

€7.00m

Centre-Back

Bundesliga

Marcel Tisserand

27

Fenerbahce

€4.00m

Centre-Back

Süper Lig

Robin Knoche

28

Union Berlin

Free transfer

Centre-Back

Bundesliga

Phillip Menzel

21

A. Klagenfurt

?

Goalkeeper

2. Liga

John Yeboah

20

Willem II

?

Left Winger

Eredivisie

Ismail Azzaoui

22

Without Club

–

Right Winger

Ignacio Camacho

30

Retired

–

Defensive Midfield
Wolfsburg Highest-Paid Player 2022
Who is the highest-paid Wolfsburg Player? Ignacio Camacho is Wolfsburg's highest-paid player, earning nearly €100,000 per week. He is followed up by Yunus Malli who is making around €85,000-€90,000 per week playing for the Wolves. Watch & Bet Football Live =>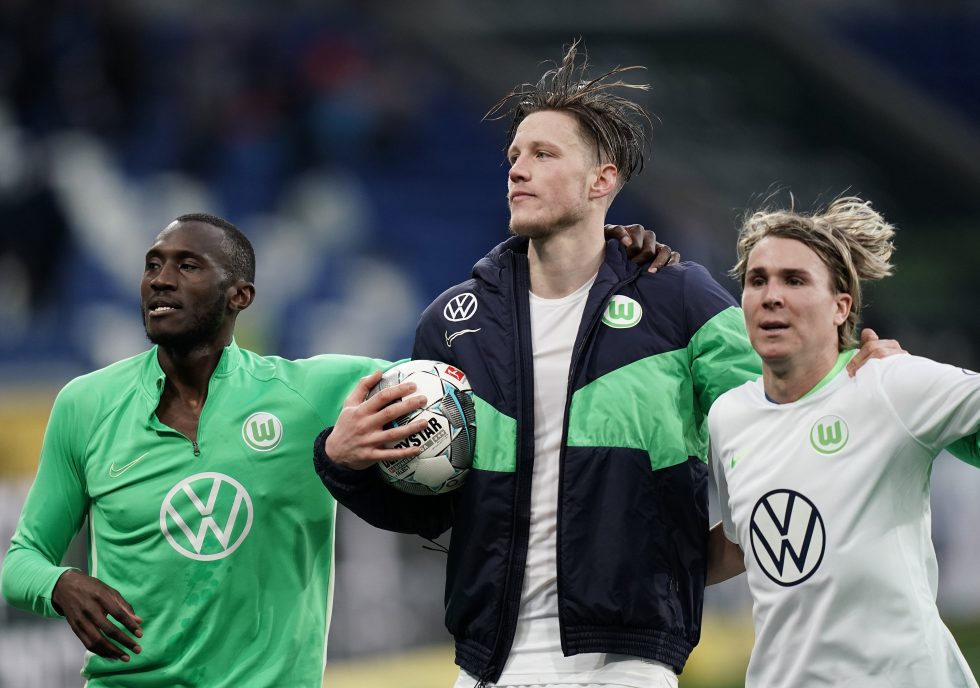 Wolfsburg Player Contracts 2022 – Annual Salaries
| | | | | |
| --- | --- | --- | --- | --- |
| Player Name | Weekly Wage | Yearly Salary | Age | Nationality |
| Ignacio Camacho | £84,000 | £4,368,000 | 29 | Spain |
| Daniel Ginczek | £68,000 | £3,536,000 | 28 | Germany |
| John Brooks | £66,000 | £3,432,000 | 26 | U.S.A. |
| Maximilian Arnold | £65,000 | £3,380,000 | 25 | Germany |
| Admir Mehmedi | £61,000 | £3,172,000 | 28 | Switzerland |
| Kevin Mbabu | £54,000 | £2,808,000 | 24 | Switzerland |
| Wout Weghorst | £54,000 | £2,808,000 | 26 | Holland |
| Jérôme Roussillon | £50,000 | £2,600,000 | 26 | France |
| Koen Casteels | £50,000 | £2,600,000 | 27 | Belgium |
| Xaver Schlager | £46,000 | £2,392,000 | 21 | Austria |
| Yannick Gerhardt | £46,000 | £2,392,000 | 25 | Germany |
| Josuha Guilavogui | £41,000 | £2,132,000 | 28 | France |
| Marin Pongracic | £40,000 | £2,080,000 | 21 | Croatia |
| Felix Klaus | £35,000 | £1,820,000 | 26 | Germany |
| Robin Knoche | £31,000 | £1,612,000 | 27 | Germany |
| Josip Brekalo | £30,000 | £1,560,000 | 21 | Croatia |
| William | £29,000 | £1,508,000 | 24 | Brazil |
| João Victor | £25,000 | £1,300,000 | 25 | Brazil |
| Marcel Tisserand | £24,000 | £1,248,000 | 26 | DR Congo |
| Renato Steffen | £23,000 | £1,196,000 | 27 | Switzerland |
| Pavao Pervan | £12,000 | £624,000 | 31 | Austria |
| Paulo Otávio | £8,800 | £457,600 | 24 | Brazil |
| Ismail Azzaoui | £7,100 | £369,200 | 21 | Belgium |
Wolfsburg Player Salaries Per Week 2022 – Weekly Wages
Josuha Guilavogui salary per week? Robin Noche salary per week? Here are the full list with Wolfsburg Players salaries per week:
| | | | |
| --- | --- | --- | --- |
| # | PLAYER | ANNUAL SALARY | WEEKLY SALARY |
| 1 | Ignacio Camacho | € 5,000,000 | € 96,153.85 |
| 2 | Yunus Malli | € 4,085,000 | € 86,250.00 |
| 3 | Daniel Ginczek | € 4,000,000 | € 76,923.08 |
| 4 | Maximilian Arnold | € 4,000,000 | € 76,923.08 |
| 5 | John Anthony Brooks | € 3,986,000 | € 76,653.85 |
| 6 | Admir Mehmedi | € 3,500,000 | € 67,307.69 |
| 7 | Jeffrey Bruma | € 3,000,000 | € 57,692.31 |
| 8 | Wout Weghorst | € 2,990,000 | € 57,500.00 |
| 9 | Yannick Gerhardt | € 2,990,000 | € 57,500.00 |
| 10 | Josuha Guilavogui | € 2,491,000 | € 47,903.85 |
| 11 | Felix Klaus | € 2,000,000 | € 38,461.54 |
| 12 | Robin Knoche | € 1,993,000 | € 38,326.92 |
| 13 | William | € 1,976,000 | € 38,000.00 |
| 14 | Josip Brekalo | € 1,800,000 | € 34,615.38 |
| 15 | Jérôme Roussillon | € 1,500,000 | € 28,846.15 |
| 16 | Koen Casteels | € 1,500,000 | € 28,846.15 |
| 17 | Marcel Tisserand | € 1,500,000 | € 28,846.15 |
| 18 | Renato Steffen | € 1,500,000 | € 28,846.15 |
| 19 | Pavao Pervan | € 780,000 | € 15,000.00 |
| 20 | Ismail Azzaoui | € 442,000 | € 8,500.00 |
| 21 | Elvis Rexhbecaj | € 149,000 | € 2,865.38 |
| 22 | Phillip Menzel | € 94,000 | € 1,807.69 |

Other European Teams Salaries And Wage Bills Lists
Premier League teams:
La Liga teams:
Serie A teams:
Ligue 1 teams:
Bundesliga teams: