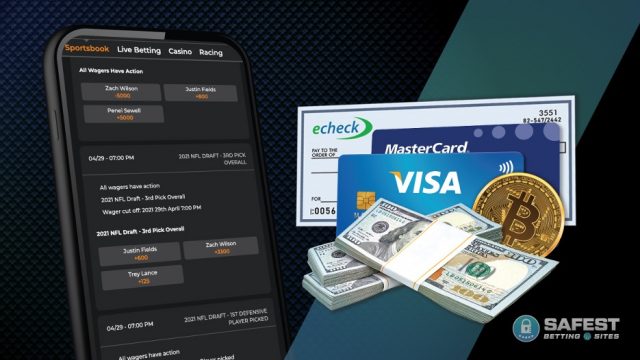 If you are wondering how sports betting works, maybe you are interested in betting on the Super Bowl or an upcoming NFL or baseball game. Online sportsbooks are the most popular way to gamble on sporting events legally. Casinos and sports wagering sites make it convenient for gamblers to bet online (and from the comforts of home). With a wide variety of odds and bets, there are all kinds of fun ways to win money. So, let us explore how easy it is to place wagers online while watching your favorite sports team play.
In this sports betting breakdown, we will cover how to find reputable sportsbooks for mobile betting. We will also cover sportsbook promotion offers and how to bet on events (without getting ripped off!).
Some Basics
Perhaps you are new to online gambling and want to know what a sportsbook is, or you want to learn how to bet on games. Sports betting is NOT the same as slot games or casino gambling. Sports betting or online sportsbooks are legal ways to wager money on a team or player.
Gambling on the Go
With smartphone technology advances, casinos are facilitating their gambling websites. Hence, they continue to make improvements (better security, higher encryption). Casinos want to ensure convenient gaming access so players can have table games, slots, and online betting at their fingertips.
Some online gambling sites have apps you can download. Others let you play securely online. With sports betting, it is easy to bet on live events and daily fantasy sporting events. Enter a contest, start your draft team, or bet on horses, football, or other sports. All that you need is a reliable internet connection on your smartphone or computer, an online account, and money to wager with.
Once you find a reputable gambling site with a sportsbook, follow these simple steps:
Click on the "Sign Up" button and follow the casino's online instructions
Create a user account, add your details, and verify your account
Log in and add money to your account (credit or debit card, check, cryptocurrency)
Look for your Welcome Offer (extra money to gamble with)
Early Days of Gambling
Sports betting is legal in most states. The first sportsbooks started about 25 years ago, but gambling dates back to 3,000 BC. In Mesopotamia, they used six-sided dice, and in 1,000 BC, Chinese gambling houses let people wager on animal fights. Hence, gambling and sportsbooks initially became more prevalent overseas as rules and regulations for bookmakers were laxer.
Types of Bets
Football coach Bill Peterson once said, "You guys line up alphabetically by height." Wait, what? Similarly, online betting rules should not be confusing. Let's look at odds, plus/minus wagers, money lines, and over/under betting to understand how sports betting works. You do not even need a tutorial or mathematics degree, as we will go through some examples.
How Sports Odds Work
If you are curious about how the odds work in sports betting, sports gambling generates $3 trillion annually. And, while millions have money riding on sports events every day, not everyone wins. Odds in sports betting can double or triple your money (or higher) if you can correctly guess the outcome of an event.
Plus and Minus Wagers
Pluses (+) and minuses (-) are odds that have different wager amounts. They are common in point spreads where you have a favorite (gives a run or point) and an underdog (receives a run or point). A plus symbol indicates how much a $100 bet will pay if it wins. A minus symbol indicates the amount you must wager to win that $100. Here is an example.
The New England Patriots (+4) -110 are playing the Dallas Cowboys (-4) -110
In this example:
The Patriots are the favorite, and the Cowboys are the underdog.
They are playing in Dallas as the away team is listed first.
Betting on New England gives you 4 points. Hence, for you to win, the Patriots need to win by 5 points.
You win if there is a tie or if the Patriots lose by 1-2 points. If the Cowboys win by 4 points, you do not lose or win.
With the odds, the -110 means that you need to bet $110 to win $100.
You may not always see whole number lines as there can be half points in a plus and minus bet. Hence, you will not have a push or tie. Here is an example.
Atlanta Falcons VS. New Orlean Saints with a point spread of Atlanta (+5.5) -110 and New Orleans (-5.5) -110
In this example:
Betting on Atlanta, you win your wager if they lose by 5 or win their game outright.
Betting on the Saints, you would only win your bet if they win by 6 points.
Money Line Wagers
Money lines are bets on a match or contest. The emphasis is not on points or runs as the minus or plus will signify a team's chance of winning. Meaning that is how much you have to bet to win. Hence, favorites have minus symbols, and underdogs have plus symbols. Here is an example.
Los Angeles (-300)
In this example, you need to wager $200 to win $100.
If you see a money line for an underdog team and a plus, that indicates what you would win if you place a $100 bet.  Here is an example.
Tampa Bay (+250)
In this example, if you wager $100, you will win $250 if Tampa Bay wins.
Over and Under Betting (Total Bets)
To better understand how betting works in sports, we need to look at over/under betting or the total score of both teams. These are sometimes hard to pick, but they are in sportsbooks. Here is an example.
Dallas and Miami are playing. They are over/under is: Over 50.5 -210, Under 50.5 -210.
In this example:
You are betting on the score being over 50.5 points.
If you think the total will be higher, you bet over (O).
If you think the score will be lower, you bet under (U).
How Online Sportsbooks Make Money
Maybe you are wondering how do sportsbooks make money. Sportsbooks make their money with a vig (fee), and these are in point spreads. The vig is a surcharge of about 5-10% added to money line bets. Here is an example.
A favorite is -300, and the underdog is +150
In this example, the difference between what you gamble versus what you win is the profit of the sportsbook.
It is common to see vigs with wagers of 110 to earn 100 or bets of 105 to win 100. Hence, if the bookmakers bet the same amount on both sides, they can make a pretty decent profit. However, they rarely get the exact amount.
Books (sports betting managers, casino operators) move their lines to prevent them from becoming one-sided. Hence, opening and closing lines are usually always different because books want equal betting action. The odds are not always fair as the juice can change, but it is done strategically to encourage equitable actions. It also prevents imbalanced betting. Here is an example.
Los Angeles Lakers: Spread: +5 (-110), Moneyline: +180, Total: 207 (-105) Over
New York Knicks: Spread: -5 (-110), Moneyline: -220, Total: 207 (-115) Under
In this example, gamblers bet $110,000 to earn $100,000 on LA at +5. They are also betting $110,000 to make $100,000 on the Knicks at -5. Regardless of who wins, the book profits by $10,000. As NBA player Charles Shackleford once said, "I can dribble with my right hand, and I can dribble with my left hand. I'm amphibious." Might want to replay that one.
Trusted Online Sportsbooks In The US
Maybe you are unsure about which sportsbooks are best or how to read sports spreads. Gamblers always ask for the most legit and reliable online sportsbooks. While there are numerous sports betting sites, here are a few we have hand-picked. Licensed by the American Gaming Association, these have proven records and accept credit cards and cryptocurrencies. They offer reliable payouts and will keep your information safe.
The best online sportsbooks include:
BetUS
Rated A+, their Welcome Bonus for sports bettors is 125% up to $2,500, and they have a 100% up to $7,500 crypto-specific bonus.
MyBookie
Promotions include 100% up to $1,000, big bonuses, and safe payouts. Available for offshore sports, they have an A rating and a helpful prop builder betting tool.
Sportsbetting.ag
With a 50% up to $1,000 offer, check out their online casino and poker room after you win on the big game.
Bovada Sportsbook
Rated A and ideal for offshore betting, payouts are within 2-3 days. Despite the small 50% up to $250 promotion, they offer a lower rollover and have a VIP points cash program.
Betonline
With payouts in 2-4 days, they have one of the biggest online sportsbooks and offer the largest wagering limits. Their promotion is 100% up to $1,000.
Let the Games Begin!
Because online betting keeps getting more straightforward, it is a fun way to bet on your favorite events. Use the tips above and check out the lucrative sportsbook offers available at the recommended casinos. You do not have to be a pro to wager on your favorite event and win either. The sportsbooks we recommend make it easy for you to learn betting basics and win (without making mistakes!).
Author Bio
How 'bout dem Saints? Kassandra Hall writes for Safest Betting Sites. She is a sports writer who is avid about golf, biking, basketball, and football. Interested in keeping her audiences engaged with a humorous take, she tackles a wide variety of sports and is rallying for Sean Payton and the New Orlean Saints.