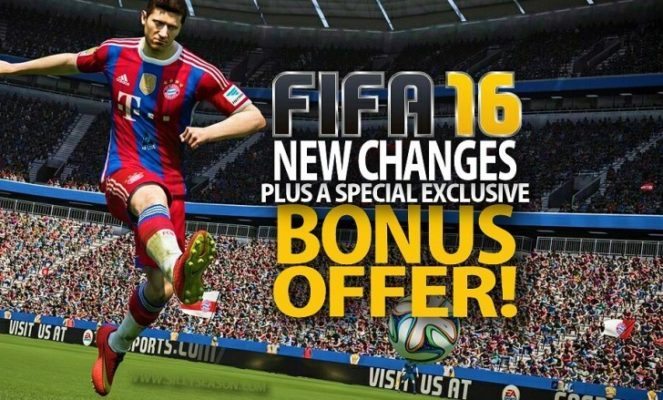 Ahead of FIFA 16's release later this month (September 2015), EA Sports Announces Changes To FIFA 16!, It's soon time to wack that disk into the slot hole and fire up the consoles people, Things are getting very exciting!
EA Sports Announces Changes To FIFA 16! + A Very Very Special Offer!
It seems EA just love to tease us by throwing out videos of game play, New features, Oh and just recently the new changes to career mode, which I have to admit is AMAZING!. Have you seen it? ah well fear not, I though you might not have, so before I give you the video from EA and your exclusive bonus, Let's take a look at what's going on…
FIFA 16 CAREER MODE SET FOR SOME AWESOME CHANGES:
I know, I know  you're just as excited as I am for the next FIFA so I won't bang on for much longer.
WELL, This year as you are building up your empire with one of the massive established clubs or going for a challenge and working your way up from the bottom,  you will now be able to play pre-season tournaments and reap fantastic NEW REWARDS!!
YES!, YOU HEARD CORRECTLY, FIFA 16 WILL NOW HAVE EXTRA PRE SEASON OPTIONS!
This is just brilliant, you can now use the money that you win for transfers! AND not only that there is training for your players, so basically between games you can boost up their attributes. There is so much more as well, Just watch this:
How amazing is that right?, Just the Pre-Season tournaments alone will be fantastic.
THE SPECIAL FOOTBALL OFFER!
Oh and Speaking of tournaments did you know by reading this article you are invited to a very special exclusive offer? What is it you ask? well by signing up to out very special partner YOU can get a MASSIVE FOOTBALL DEAL!!
WHAT IS THE BONUS OFFER YOU ASK?
Well if you act fast you can get a great deal on England to beat San Marino at 2/1 (normally 1/500), that's right if England defeat San Marino (which let's be honest, they will) your odds on a bet will be 2/1, Claim here by signing up, It literally takes seconds: CLICK HERE!  But hurry this deal wont last long, and you would be crazy to miss out on it.
Want to know more about the game? check out our rundown SAN MARINO VS ENGLAND – A SURE WIN FOR ENGLAND TOMORROW?