PL transfers in January? Who are the players who will leave via PL transfers in January?
What are the PL transfers in January? Do you think your club will lose players due to the PL transfers in January? It's that time again – when all clubs go crazy for transfers.
Paul Pogba: PL transfers in January
The French international was a teenage player for Manchester United. He was signed by the club back as a youth player. However, after failing to make the first team cut as a youngster under Sir Alex Ferguson, Pogba felt his talent would be better suited somewhere else.
He was released by the club and joined Antonio Conte's Juventus. At Juve, he was covered by Artuto Vidal, Andreas Pirlo and Marchisio. The presence of such talented midfielders and a world class coach, saw Pogba soon develop into one of the best Serie A stars. He was soon conquering Italy week in week out.
This prompted Manchester United to make a move to bring him back. It cost them a fortune as they had to break the world record for a midfielder to buy Pogba. Back home at Old Trafford, it seemed nothing could go wrong. However, he never got along with Mourinho who emphasized on work rate, something Pogba is not known for.
It led to the player's bad form and Mourinho getting the sack. Now new boss Ole Gunnar Solskjaer has come. However, despite a better run of form for the Frenchman he is still far from his very best. That led to talks maybe United were not operating at his level.
Transfer Rumour For Pogba
It got more intensified as his fellow Frenchman and Real Madrid coach Zinedine Zidane has openly admitted he wants Pogba at the biggest club in the world, Real Madrid. Pogba himself is quite interested in playing for Real Madrid. He has 18 months remaining on his United contract – which pays him 15 million pounds a year. However, the central midfielder does not have any intentions of renewing or extending his contract with the club.
As of now, Manchester United has given a transfer fee of 150 million pounds for Pogba. Along with Real Madrid, Juventus and Barcelona have also joined the transfer race. Nothing has been confirmed yet, but if any of the clubs come forward asking for him, rest assured, Manchester United will act upon it immediately.
Olivier Giroud: PL transfers in January
He's one of the France world cup winners.
When the French striker was first signed for Arsenal, many thought he was a failed signing. He would miss goals galore and was not good at running in behind. However, as seasons went by, Wenger stuck with him and developed him into a starting eleven player.
The striker learnt how to hold the ball, missed less chances and became a traditional number nine who can play with his back to the goal. He was getting along good at Arsenal until Alexandre Lacazette and Pierre-Emerick Aubameyang arrived and Giroud realising his first team days are over left. He was signed by Chelsea for a cut throat price and at West London, he played a good one and a half season fighting Morata for the first team spot. Just when it seemed his battle was won, Lampard took charge and the Englishman has immediately put Tammy Abraham ahead of Giroud.
Chelsea is currently looking at Ousmanne Dembele to replace Giroud and further, Giroud is interested in returning back to France as well. His contract with Chelsea ends in the summer this year and any club would be lucky to have him.
Granit Xhaka: PL transfers in January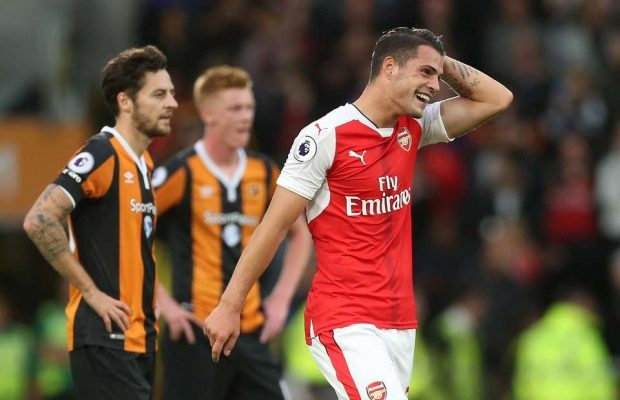 The Arsenal captain is at an end of all roads. He was appointed captain just a few months back. Unai Emery, in all his senses, took a vote from his players to elect the captain and it was Granit Xhaka who was chosen.
However, the player turned in one bad performance after another. He was finally taken off in the match against Crystal Palace with Arsenal drawing 2-2. It was yet another pathetic Xhaka display. However, when asked to come off, Xhaka decided to trudge back rather than run off and help the team. This infuriated the Arsenal fans as they started booing their own captain. The matter became even worse as Xhaka then told the fans to "f*** off* for booing him.
Boy, what leadership skills! He has refused to apologise since and considers himself to be the victim. We see no return from this and he should be off to a new country come January.
However, the manager Mikel Arteta has declared that he will not sell Xhaka, which have shaken up things a bit more.
Christian Eriksen: PL transfers in January
He has been tied with Real Madrid and Manchester United – both giants in the football world.
Eriksen's performance had dropped drastically this season – by 38.5%.
Maybe, he should have just been left and let go of in the summer. Erisken came to the summer camp knowing he had one last season left at contract. After that, he can leave for free.
However, the player made his best ploy to leave and issued a come and get me plea to multiple teams, Real Madrid in particular. He would have been a great buy and Spurs would have fetched a fortune for him. However, no piece moved in the chess board and Eriksen had to stay.
The problem arose after that a whole different Eriksen seemed to have come to the ground. His performances have been insipid. The player looks least interested and his drop in tempo has affected the whole Spurs team.
Tottenham should no longer hold on to a player who is clearly not present mentally anymore. We can see him leaving!
Lucas Torreira: PL transfer in January
Lucas Torreira plays as a midfielder for Arsenal. He has been with transfer rumours to Italian club Napoli in this month's transfer window. Napoli have offered 25 million pounds for the midfielder, but that's only after they test waters first. They are willing to take Torreira on loan for 2.5 million pounds and if he works well for Napoli, the club would like to make the deal permanent.
When Torreira first came to Arsenal, he started off rather impressively. However, within the last season, his performance at Arsenal has dropped significantly – and has been going in and out of matches. Moreover, Torreira has stated that he hates the English weather – making more sense for the Uruguayan international to make an exit soon.
See More: