Norwich City Squad 2021 – First Team 2020/21
Norwich City Squad 2021 : new player in and out 2020/21 for Norwich City Squad 2021. Here is the Norwich City squad 2019 for  First Team 2020/21. 
Norwich City FC (Football Club) is a team that currently plays in the PL having returned from the Championship, having been relegated from the Premier League in 2016.
The club was founded in the year 1902. They are also known as The Canaries or simply Norwich.
Since the club was formed in 1902 The Canaries have played in Newmarket Road stadium until 1935.
Since then Norwich have played their home games at Carrow Road.
Carrow Road holds a capacity of 27,000 seats and the new plans have been announced that they are aiming to expand it up to 29,000.
Norwich City squad 2021
The Norwich City squad 2021 line up 2020/21 season will consist of these players.
Norwich City Squad 2021
| | |
| --- | --- |
| Tim Krul | Goalkeeper |
| Ralf Fährmann | Goalkeeper |
| Michael McGovern | Goalkeeper |
| Christoph Zimmermann | Defender |
| Jamal Lewis | Defender |
| Timm Klose | Defender |
| Philip Heise | Defender |
| Grant Hanley | Defender |
| Max Aarons | Defender |
| Sam Byram | Defender |
| Ben Godfrey | Midfielder |
| Mario Vrancic | Midfielder |
| Moritz Leitner | Midfielder |
| Emiliano Buendia | Midfielder |
| Marco Stiepermann | Midfielder |
| Tom Trybull | Midfielder |
| Kenny McLean | Midfielder |
| Onel Hernandez | Midfielder |
| Alexander Tettey | Midfielder |
| Today Cantwell | Midfielder |
| Patrick Roberts | Midfielder |
| Ubrahim Amadou | Midfielder |
| Louis Thompson | Midfielder |
| Teemu Pukki | Forward |
| Dennis Srbeny | Forward |
| Josip Drmic | Forward |
| Adam Idah | Forward |
Let us now see the old squad they had last season.
Norwich City Squad 2020/21
Norwich City squad Goalkeepers

Tim Krul
Michael McGovern
Remi Matthews
Veteran goalkeeper Tim Krul joined Norwich from Brighton on a free transfer. Krul will likely contest for the first-team goalkeeper spot with Michael McGovern and Remi Matthews. Tim Krul has enjoyed a long and successful career, namely at Newcastle, and will provide some much needed experience from the back.
Norwich City FC Defenders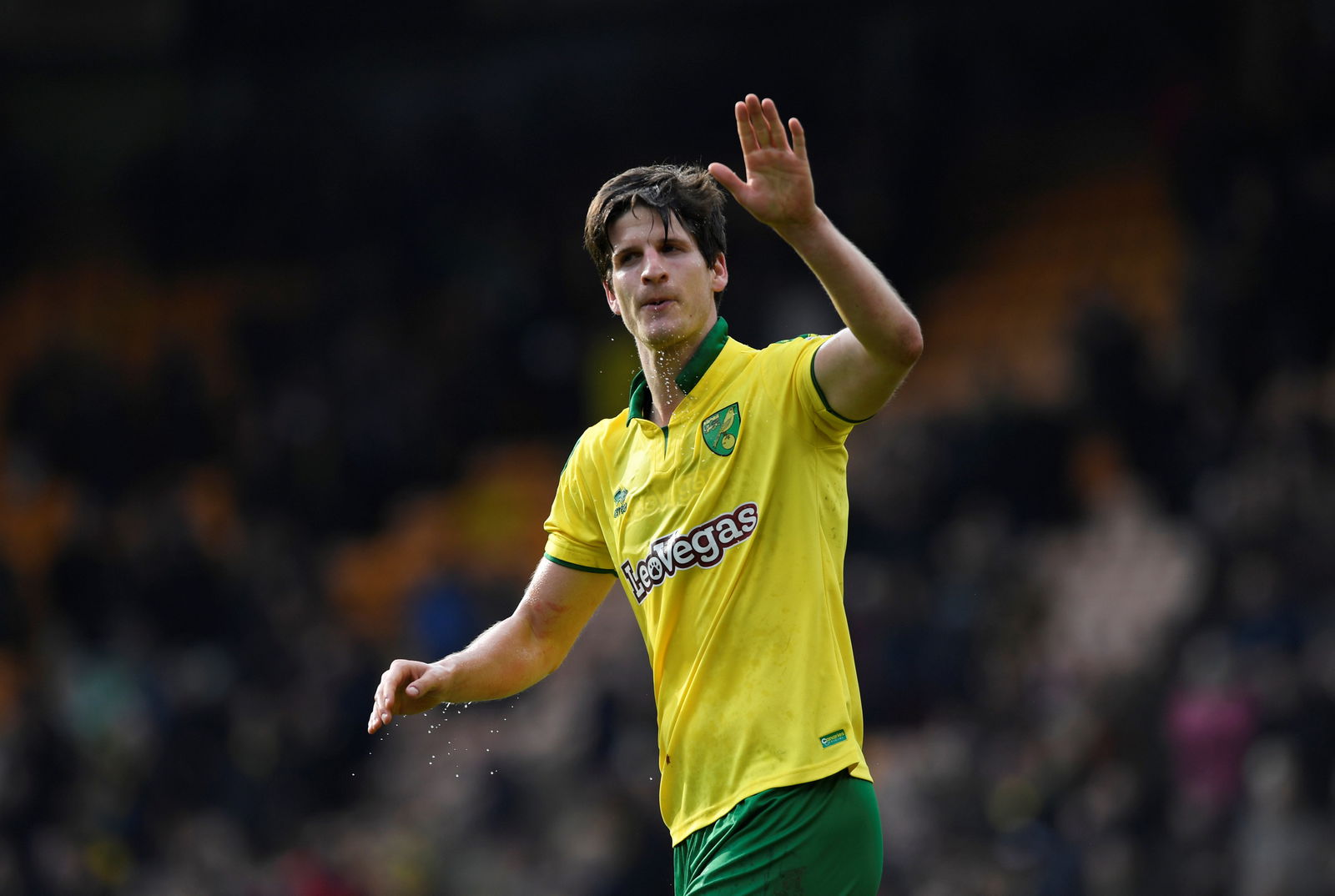 Timm Klose
Grant Hanley
Russell Martin
Christophe Zimmermann
Marco Stiepermann
James Husband
Jamal Lewis
Ivo Pinto
Felix Passlack
Borussia Dortmund full-back Felix Passlack joined Norwich this summer on loan. The talented defender is a great addition to the side and he will provide Norwich with an attacking edge on the wing.
Norwich City FC Midfielders
Alexander Tettey
Tom Trybull
Louis Thompson
Ben Godfrey
Mario Vrancic
Moritz Leitner
Kenny McLean
Ben Marshall
Emiliano Buendia
Promising midfielder Moritz Leitner joined Norwich this summer from FC Augsburg for an undisclosed fee. The 25-year-old comes highly-rated and should provide some quality in midfield. Meanwhile, Emiliano Buendia joined from Getafe CF this summer for around £1 million. Nowich will look to get back into the Premier League this season with these new signings.
Norwich City squad Forwards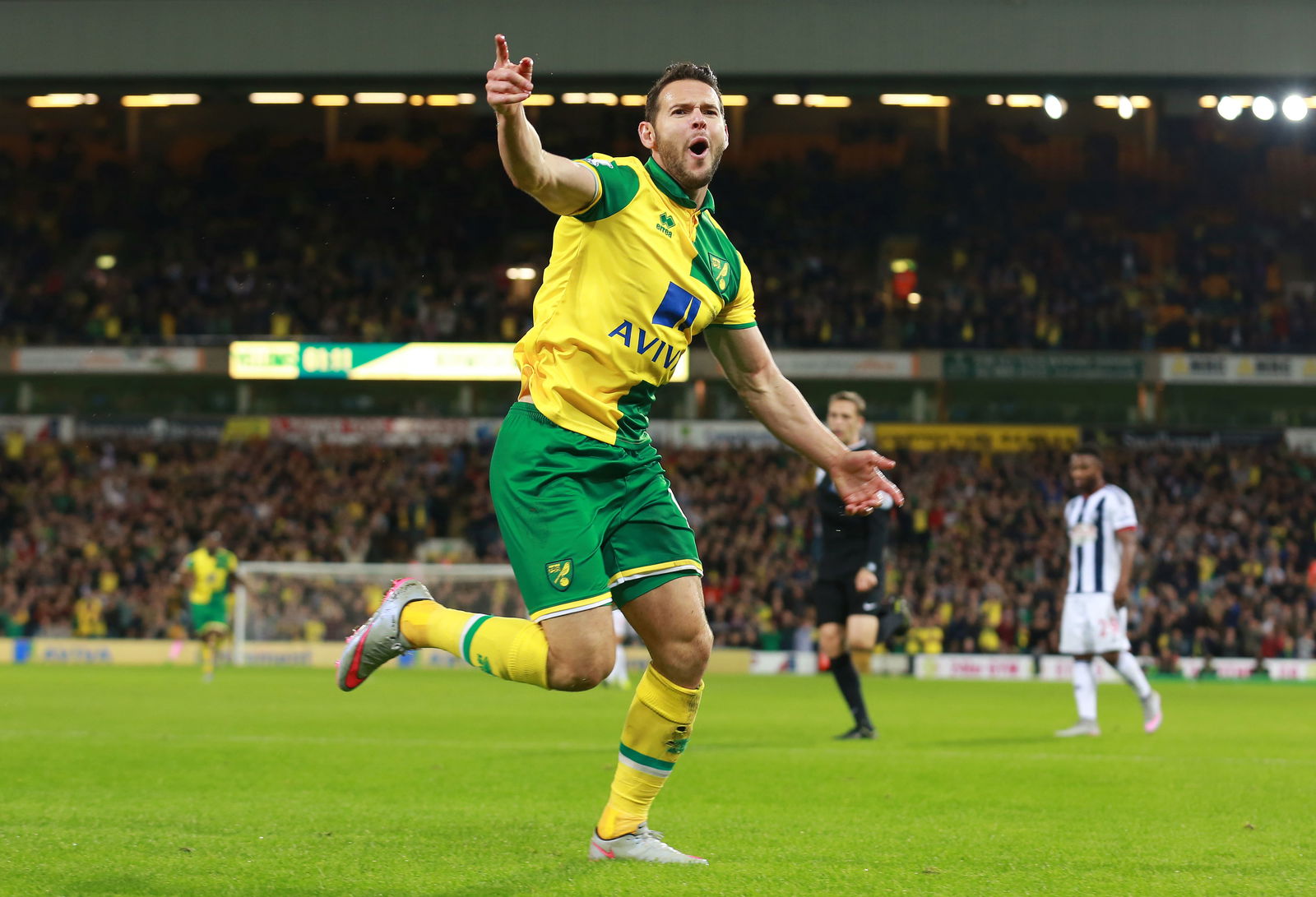 Matt Jarvis
Onel Hernandez
Jordan Rhodes
Nelson Oliveira
Teemu Pukki
Dennis Srbeny
Norwich signed Jordan Rhodes from Sheffield Wednesday on a loan deal until May 31 2019. They have a few options in attack now and will look to compete this season in the Championship for promotion.
Norwich City squad next game
What match is the next in Championship game program?
There are many fans who want to see the team play because of many reasons. They have many young stars in the squad while playing a very attractive style of football.
Here we look at the first six Norwich City fixtures.
Norwich's first six fixtures
Birmingham vs Norwich City
Norwich City vs West Brom
Norwich City vs Stevenage
Sheff Utd vs Norwich City
Norwich vs Preston
Norwich vs Leeds United
The Norwich City FC news and latest news The Canaries!
Norwich City FC titles
The club's home colours are yellow for shirts and green for shorts.
Their nickname "The Canaries" has long influenced the team's colours and crest. Originally, the club was nicknamed the Citizens.
Canaries have spent most of their time in the second and third tiers of English football until 1972.
They have never won the league but have won the League Cup twice.
The Canaries have finished as runners-up in the League Cup two times.
Domestically, Norwich City FC has won:
Second Division/Championship titles: 3
Third Division/League One titles: 2
League Cup: 2
In international club football, Norwich City FC won:
Sadly, the Canaries were denied their first ever entry into Europe with the ban on English clubs after the Heysal Stadium disaster.
Norwich City squad transfer news
Norwich City players transfer news is extremely active for a Championship side.
The Canaries have signed 17 players and loaned in 4 players in the recent transfer windows.
They have sold or released about 20 players in the process.
The club still needs to up their game to go further in the English Championship.
Norwich City transfer rumours
There is always news and rumours when it comes to The Canaries.
The English gossip press has even started with their rumours and exclusive news.
There are usually several pages with  Norwich City transfer rumours on the internet and in the newspapers and there is nothing to write about if the newspapers usually find news.
If it's not credible news, it's usually rumours that they've taken from the air and the Internet.
Norwich City stream
The Canaries are widely supported across much of the support from local areas.
There are a number of exile fan clubs, notably in London and stretching from Scandinavia to countries further afield such as the United Arab Emirates, Bermuda, Hong Kong, Thailand, Australia and the United States.
Their anthem "On the ball" is the oldest football song in the world still in use today.
The club's long time rivals are Ipswich Town.
It's the clash between Nowrich and Ipswich considered as their most noticeable club derby.
Fixture between Norwich and Ipswich meet it is known as the "East Anglian Derby".
It is also known as Old Firm Derby – a comic reference to the classic Scottish clash between Celtic and Rangers.
There are many fans who sing to their heart out to "On the ball" and want to see their club get back on track and compete on a top flight level.
Norwich City live stream online free  is something that is interesting to many.
There are many sites to stream Norwich City.
Norwich City game schedule
Fixtures Norwich City? The Championship is determined after playing 46 game weeks from August to May.
That means 46 matches per season only in the league are taken into equation.
Then they also play the FA Cup and the Carabao Cup which makes it easy to get around 50 or 60 matches in a season.
Therefore,  Norwich City fixtures are very packed and it is often possible to play two or three matches within a week's time.
The competition season offers very many matches and then you can also add training cups and various Pre Season competitions.
When it comes to  Norwich City fixtures and Norwich City schedule , it's possible to see when the team is playing their next match in Championship's game schedule.
Norwich City match today ?
It's easy to find when the Canaries is playing his next match.
It is often said that they play on Saturdays when it comes to league games.
Unfortunately, the Canaries don't usually play against the European elites.
To be absolutely sure we have collected all the matches in one and the same place.
Norwich City Champions League and Europe League
The Canaries sadly have no European pedigree.
As mentioned above – The Canaries were denied their first ever entry into Europe with the ban on English clubs after the Heysal Stadium disaster.
The club is building their team from the scratch since their relegation and trying hard to win the promotion to top flight football.
It seems they will need to improve a lot, no matter how long the period of time it takes before the club gets promoted.
Norwich City lineup
As we mentioned above,  Norwich City's lineup and starting line up is full of young stars.
The team's latest coach, especially Daniel Farke, has been working the players in the squad and has spent a lot of time in developing their career.
Looking at Norwich City players and squad, they have many young and talented players and several being English players.
Their overseas roster features players from various other countries.
German players influence is heavily growing around this club.
Farke likes to play with a lineup with the 4-2-3-1 and 4-5-1 formations.
Norwich City squad news
Canaries have been building their team from the scratch since their relegation from the Premier League.
Today, they may not be challenging some of the world's biggest football clubs, but the news about the The Canaries Club is showing up.
If we look at Canaries' payroll, they will undoubtedly pay some of the lowest in Europe.
If you only look at the wages, they are not very high.
However, Norwich are paying their players bonuses which reduces their wage bill.
This is to get around the FIFA Financial Fair Play.
Norwich City latest news
Norwich City news  is often about game purchases, but it is also very interesting about other parts.
It is especially information about  Norwich City tickets , shirts and  match kit as it is written.
There are also many who are looking for a logo or wallpaper to have on their mobile or tablets. Click to go to City's official shop ,  Twitter account  and webpage .
See also…
Cardiff City Squad, Team, All Players 
Aston Villa FC Squad, Team, All Players 
Swansea City FC Players Salaries 
Stoke City FC Squad, Team, All Players 
Stoke City FC Transfers List 2018? Potters New Player Signings 
Southampton FC Squad, Team, All Players 
Chelsea FC Squad, Team, All Players
Swansea City Squad, Team, All Players