AFC Ajax Players Salaries 2023 (Weekly Wages)
Want to know what the AFC Ajax Players Salaries 2023 are? Who are Ajax's highest-earning players? How much do Ajax players earn? Have you ever wondered about which players at AFC Ajax earn the most? Well if you have, then worry not, because we have prepared a full list of the Ajax players salaries 2023. Watch & Bet Football Here =>


AFC Ajax is a Dutch football club based in Amsterdam. Ajax has been the most successful club in the Netherlands, with 33 Eredivisie titles and 18 KNVB Cups. They have continuously played in the Eredivisie, the Dutch football top division, since its inception in 1956.
Ajax has been one of the most successful clubs in the world, historically. According to the IFFHS, Ajax were the seventh-most successful European club of the 20th century. They were the World's Club Team of the Year in 1992.
Ajax are famous for being one of the first clubs to adopt the Ditch "total football" philosophy made popular by former Ajax and Dutch star Johan Cruyff.
AFC Ajax Information 2023
Ajax plays at the Johan Cruyff Arena, (originally opened as the Amsterdam ArenA in 1996). It was renamed in 2017. Before 1996, they played at De Meer Stadion and the Amsterdam Olympic Stadium for international matches.
The arena has a capacity of 54,033 fans.
Ajaz nicknames include; "de Godenzonen" (Sons of the Gods), 'de Joden' (the Jews) and "I Lancieri" (The Lancers).
Ajax kit colours are white shorts and white shirt with a broad, vertical red stripe over chest and back.
AFC Ajax fans & rivals
Ajax main two rivals are Feyenoord and PSV as including themselves, they are the big three clubs in the Dutch league and the main competitors.
Every year both Ajax and Feyenoord play the De Klassieker ("The Classic"), a match between the teams from the two largest cities of the Netherlands. It is known as the fiercest rivalry in Netherlands football. It is so bad that away supporters are no longer allowed in the home stadium anymore.
Highest Paid Ajax Player 2023 (Weekly Wage)
AFC Ajax Player Wages? Eredivisie wages? How much do Dutch league footballers earn? Who is earning the most at Ajax? Who are the highest-earning players at AFC Ajax?
Ajax do not reveal their wages information but judging by transfer market value as highlighted in the table below- it is likely that players such as Davy Klaassen and Dusan Tadic are earning the most at AFC Ajax.
AFC Ajax players salary 2023 (Weekly Wage)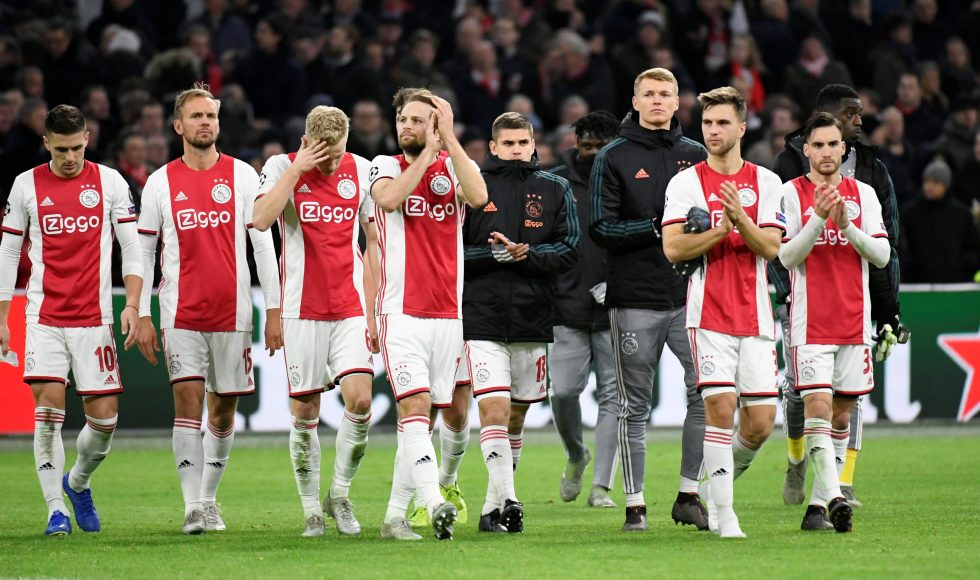 Ajax, like most other football clubs, do not release their wage bill. However many journalists often break wage bill information which are often accurate. But for Eredivisie teams, very little is known about players wage bills.
What we can tell you is that the average player wages in the Eredivisie are around €277,000 per year. Therefore, the average salary in Dutch football is quite low compared to other leagues and they even earn less than the average player in the English Championship and First division (third-highest tier of English football). So here are the AFC Ajax Players Salaries and contract details 2023. Watch & Bet Football Here =>
AFC Ajax Players Salaries and contracts 2023
| | | | |
| --- | --- | --- | --- |
| Player | Age | Weekly Wage | Contract |
| Steven Bergwijn | 25 | €88,462 | 2027 |
| Dusan Tadic | 33 | €67,300 | 2024 |
| Davy Klaassen | 29 | €62,700 | 2024 |
| Steven Berghuis | 30 | €57,700 | 2025 |
| Francisco Conceição | 19 | €51,000 | 2027 |
| Calvin Bassey | 22 | €33,462 | 2027 |
| Edson Álvarez | 24 | €32,500 | 2025 |
| Lucas Ocampos | 28 | €30,700 | 2023 |
| Jorge Sánchez | 24 | €28,846 | 2026 |
| Owen Wijndal | 22 | €27,692 | 2027 |
| Brian Brobbery | 20 | €24,200 | 2027 |
| Mohamed Ihattaren | 20 | €23,000 | 2023 |
| Ahmetcan Kaplan | 19 | €17,308 | 2027 |
| Maarten Stekelenburg | 40 | €17,300 | 2023 |
| Remko Pasveer | 38 | €14,500 | 2023 |
| Mohammed Kudus | 22 | €12,300 | 2025 |
| Lorenzo Lucca | 22 | €11,538 | 2023 |
| Kenneth Taylor | 20 | €4,800 | 2027 |
| Jay Gorter | 22 | €962 | 2025 |
| Jurrien Timber | 21 | €577 | 2025 |
| Kik Pierie | 22 | €577 | 2024 |
| Devyne Rensch | 19 | €577 | 2025 |
| Gerónimo Rulli | 30 | – | 2026 |
| Kian Fitz-Jim | 19 | – | 2024 |
| Youri Baas | 19 | – | 2026 |
Other European Teams Salaries and Wage Bills and Lists
Premier League teams:
La Liga teams:
Bundesliga teams:
Serie A teams:
Ligue 1 teams: