FC Schalke 04 Players Salaries 2023
FC Schalke 04 Players Salaries 2023? What are the FC Schalke 04 Players Salaries? How much do the FC Schalke 04 players get paid? The FC Schalke 04 Players Salaries change every year so we will update them accordingly. Have you ever wondered on which players at FC Schalke 04 are the highest paid? Well, if you have then worry not because we have prepared a list of the full list of the FC Schalke 04 Players Salaries 2023. Watch & Bet Football Live =>
The club was founded in 1904 as Westfalia Schalke by a group of high school students and they started off wearing red and yellow. The new club won its first honours in 1923 as champions of the Schalke Kreisliga. It was then that Schalke picked up the nickname "Die Knappen", from an old German word for "miners" because the team got so many of its players and supporters from the coalmine workers of Gelsenkirchen. They then adopted the name FC Schalke 04 in 1924 and wore their familiar blue and white kit.
Schalke 04 Players Salaries
Schalke, in past years achieved some success after finishing second place in 2005, a result that led to Schalke making its second appearance in the UEFA Champions League. There, Schalke finished in third place during the group stage and continuing into the UEFA Cup, where they were eliminated by the eventual winners Sevilla in the semi-finals. In 2005–06, Schalke finished in fourth place in the Bundesliga and a year later they again finished as runners-up for the third time in seven seasons.
Schalke 04 has 155,000 members, which makes it the second-largest sports club in Germany and the fourth-largest sports club in the world in terms of memberships.
FC Schalke 04 Player Arrivals 2022/23
| | | | |
| --- | --- | --- | --- |
| Player  | Age | Signed From | Transfer Fee |
| Thomas Ouwejan | 25 | AZ Alkmaar | £1.80m |
| Rodrigo Zalazar | 22 | E. Frankfurt | £1.35m |
| Sebastian Polter | 31 | VfL Bochum | £1.35m |
| Tobias Mohr | 26 | 1.FC Heidenheim | £990Th. |
| Tom Krauß | 21 | RB Leipzig | Loan fee: £540Th. |
| Marvin Pieringer | 22 | SC Freiburg II | £450Th. |
| Florent Mollet | 30 | Montpellier | £450Th. |
| Alexander Schwolow | 30 | Hertha BSC | Loan fee: £270Th. |
| Justin Heekeren | 21 | RW Oberhausen | £162Th. |
| Ibrahima Cissé | 21 | Jong KAA Gent | free transfer |
| Leo Greiml | 20 | Rapid Vienna | free transfer |
| Maya Yoshida | 33 | Sampdoria | free transfer |
| Cédric Brunner | 28 | Arm. Bielefeld | free transfer |
| Jordan Larsson | 25 | Spartak Moscow | free transfer |
| Kenan Karaman | 28 | Besiktas | free transfer |
| Sepp van den Berg | 20 | Liverpool | loan transfer |
| Alex Kral | 24 | Spartak Moscow | loan transfer |
FC Schalke 04 Player Departures 2022/23
| | | | |
| --- | --- | --- | --- |
| Player | Age | Signed From | Transfer Fee |
| Malick Thiaw | 21 | AC Milan | £6.30m |
| Ozan Kabak | 22 | TSG Hoffenheim | £4.50m |
| Rabbi Matondo | 21 | Rangers | £2.70m |
| Victor Pálsson | 31 | D.C. United | £450Th. |
| Can Bozdogan | 21 | FC Utrecht | Loan fee: £450Th. |
| Timo Becker | 25 | Holstein Kiel | £225Th. |
| Marc Rzatkowski | 32 | Arm. Bielefeld | free transfer |
| Hamza Mendyl | 24 | OH Leuven | free transfer |
| Martin Fraisl | 29 | Arm. Bielefeld | free transfer |
| Marius Lode | 29 | Bodø/Glimt | free transfer |
Highest Paid FC Schalke 04 Player 2023 (Weekly Wage)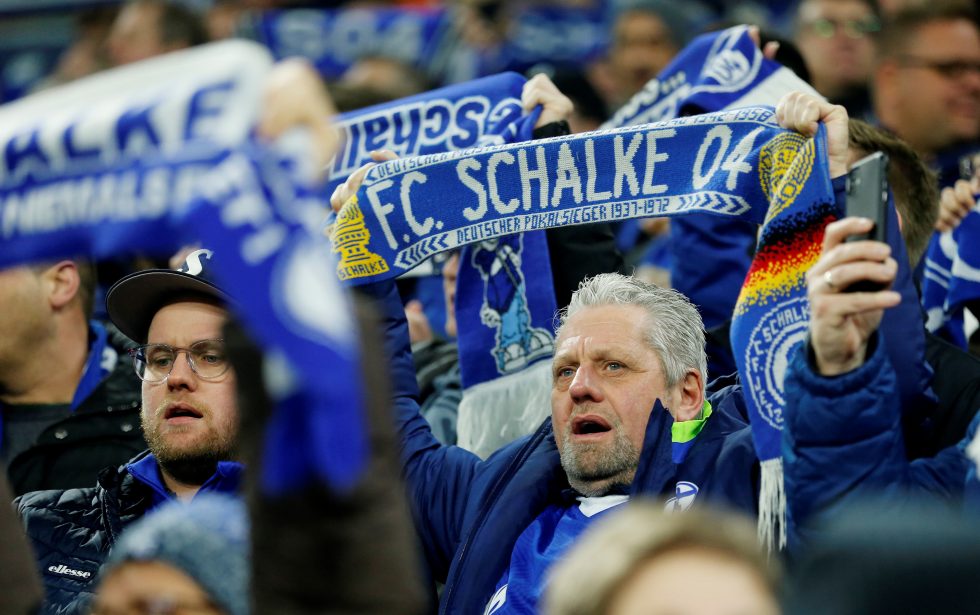 FC Schalke 04 Players Salaries? Dominick Drexler salary per week? Simon Terodde salary per week? Danny Latza salary per week? Who is the highest paid player at FC Schalke 04? The highest-paid player at FC Schalke 04 is Dominick Drexler who is on a weekly salary of €96,000. Watch & Bet Football Live =>
FC Schalke 04 Players Salaries:
| | | | |
| --- | --- | --- | --- |
| Player Name | Age | Weekly Salary | Contract Until |
| Dominick Drexler | 32 | €87,000 | 2023 |
| Simon Terodde | 34 | €74,000 | 2023 |
| Ralf Fahrmann | 33 | €53,800 | 2025 |
| Danny Latza | 32 | €53,000 | 2024 |
| Marius Bulter | 29 | €40,000 | 2024 |
| Marcin Kaminski | 30 | €38,000 | 2023 |
| Rodrigo Zalazar | 23 | €32,000 | 2026 |
| Tom Krauß | 21 | €18,000 | 2023 |
| Alexander Schwolow | 30 | €17,000 | 2023 |
| Thomas Ouwejan | 25 | €14,500 | 2024 |
| Mehmet Aydin | 20 | €11,000 | 2025 |
| Michael Langer | 37 | €8,846 | 2023 |
| Florian Flick | 22 | €4,800 | 2024 |
| Henning Matriciani | 22 | €1,154 | 2024 |
| Kerim Calhanoglu | 20 | €770 | 2024 |
| Sebastian Polter | 31 | – | 2025 |
| Tobias Mohr | 27 | – | 2025 |
| Florent Mollet | 30 | – | 2025 |
| Justin Heekeren | 21 | – | 2025 |
| Ibrahima Cissé | 21 | – | 2026 |
| Leo Greiml | 21 | – | 2025 |
| Maya Yoshida | 34 | – | 2023 |
| Cédric Brunner | 28 | – | 2024 |
| Jordan Larsson | 25 | – | 2025 |
| Kenan Karaman | 28 | – | 2025 |
| Sepp van den Berg | 20 | – | 2023 |
| Alex Kral | 24 | – | 2023 |
Honours
Domestic
German Championship
Winners: 1934, 1935, 1937, 1939, 1940, 1942, 1958

Runners-up: 1933, 1938, 1941, 1971–72, 1976–77, 2000–01, 2004–05, 2006–07, 2009–10, 2017–18
DFB-Pokal/German Cup
Winners: 1937, 1971–72, 2000–01, 2001–02, 2010–11

Runners-up: 1935, 1936, 1941, 1942, 1954–55, 1968–69, 2004–05
DFB-Ligapokal/German League Cup
Winners: 2005

Runners-up: 2001, 2002, 2007
DFL-Supercup/German Super Cup
Winners: 2011

Runners-up: 1941 (unofficial), 2010
2. Bundesliga
Winners: 1981–82, 1990–91
International
UEFA Champions League
UEFA Cup
UEFA Intertoto Cup
Coppa delle Alpi
Youth
Domestic
Under 19 Bundesliga
Winners: 1976, 2006, 2012, 2015

Runners-up: 1975, 1980, 1981
Under 19 Bundesliga West
Winners (5): 2006, 2012, 2013, 2014, 2015
Under 17 Bundesliga
Under 17 Bundesliga West
Double
1937: Championship and Cup
Other European Teams Salaries and Wage Bills and Lists
Premier League teams:
La Liga teams:
Serie A teams:
Ligue 1 teams:
Bundesliga teams: